Published on 01/05/2016 by Richelle Gamlam
Countries like China, South Korea, and Spain have been the go-to destinations for teach abroad throughout the past few years, things are changing. Around the world, other countries are also growing their job markets for ESL teachers and creating some pretty cool opportunities for those of us in the field.
In 2016 in particular, a few new countries have risen up to challenge these popular destinations. With new government-sponsored programs, newly open borders, an increase in safety, and a wealth of new teaching positions, several countries have made it on our list of great, new places to teach abroad in 2016.
1. Myanmar (Burma)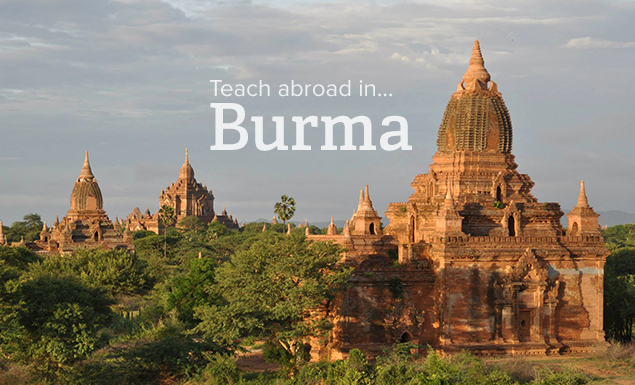 Highlights
With newly opened borders and the slow development of a tourism industry, Myanmar is one of the best up and coming places to teach abroad in 2016. After decades of oppressive military rule, Myanmar has finally opened its borders and even conducted its first free elections this year.
Many travelers are now making their way to Myanmar to explore the famous Bagan temple complex; however, as an ESL teacher you'll be one of the first to assist with Myanmar's developing education system.
Myanmar is one of the few countries in Southeast Asia that has yet to be affected by mass tourism. With limited infrastructure, over 135 different ethnic groups, and a wealth of traditional culture, you'll have an experience many only ever dream of. However, Myanmar is rapidly transforming as the country opens up to the outside world. Teach abroad in Myanmar this 2016 to get a glimpse of this traditional oasis while it lasts.
2. Vietnam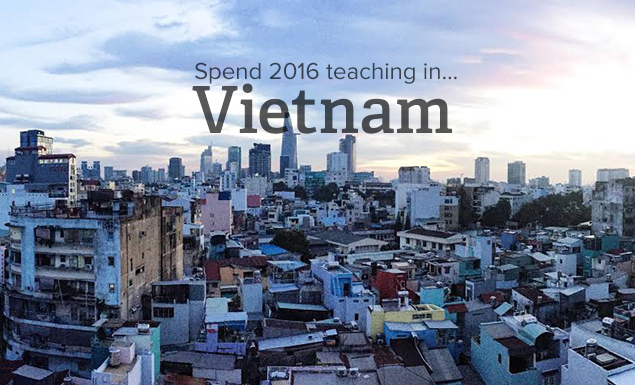 Highlights
Another Southeast Asian gem, Vietnam is an amazing place to base yourself for a year of teaching abroad. Those looking to save money while enjoying a more casual "laid-back" lifestyle than that of East Asia, will greatly enjoy Vietnam. A bit more developed than Myanmar, those who teach in Vietnam can choose from sandy coastlines, bustling cosmopolitan cities, and lush countryside.
2016 is a great year for ESL teachers interested in Vietnam. With one of the highest growth rates in Asia (second only to China), Vietnam is currently reforming its education system with an emphasis on preparing students for the increasing use of English in the workforce. As more and more travelers visit Vietnam, the Vietnamese government is globalizing its students to create a more competitive business environment and "tourist friendly" country.
Combining twenty years of rapid growth along with a young population that desires additional English education, Vietnam has quickly become one of the strongest ESL markets in the world. With a National Foreign Languages Project in place, Vietnam is aiming for most of its students to be using English confidently for daily communication by 2020.
In the past few years, Vietnam has become a more and more popular teaching destination, and is no longer Asia's "best kept secret." Many ESL teachers from countries with strict work environments like South Korea, Japan, and China are moving to Vietnam to take the best ESL positions. If you're interested in teaching abroad in Vietnam, the best time to go is now before the market becomes oversaturated as more teachers discover this gem.
3. Colombia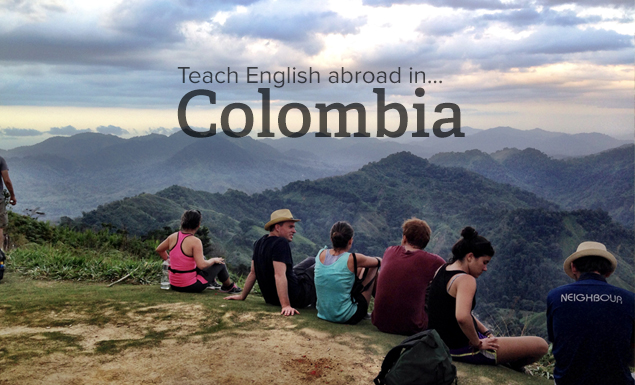 Highlights
The recently launched TEC program makes it even easier to teach in Colombia.
The average salary of an ESL teacher in Colombia is $700-$1,000 USD per month.
Find jobs and read the full guide to teaching in Colombia.
Colombia is a nation of extremes. With a turbulent history, varied landscape, a multitude of climates, and various different ethnic groups, there are so many diverse opportunities in Colombia. Despite the stereotypes that Colombia is a dangerous place, this nation has changed drastically since the 1980's, and has become increasingly safe.
In recent years, Colombia's newly open economy has continued to grow at a steady pace. Now that the economy is booming, English has become a top priority for many Colombians and the government. The Colombian National Ministry of Education has pushed for a greater presence of English language instruction using foreign teachers, and they hope to have fully-integrated English education in all schools by 2020. As a result, Colombia has started a pretty cool program to place foreign English teachers in schools around the country.
Thanks to the government's new initiative, many foreign teachers are finding jobs in Colombia through the Teach English in Colombia (TEC) program. In partnership with SENA National Training Service, the program aims to give access to English education for those who can't afford it.
For foreign teachers, the program makes teaching abroad in Colombia incredibly easy and is, in large part, the reason why Colombia is topping our list in 2016. On the program, you'll receive visa support, a small stipend, and can easily apply to the TEC program before arriving in Colombia through placement providers like Greenheart Travel and Footprints Recruiting.
4. Cyprus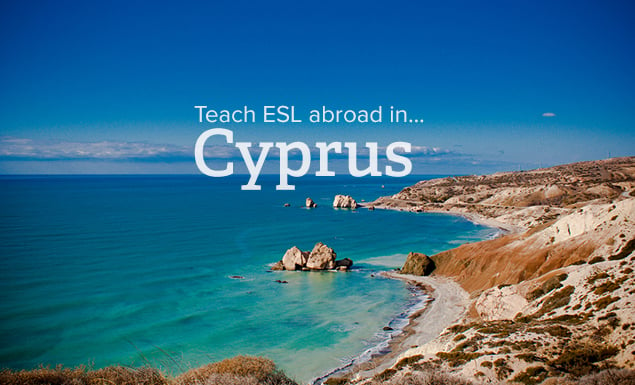 A tiny island in the Eastern Mediterranean Sea, Cyprus is full of history, culture and a dynamic mix of European and Middle Eastern culture. Cyprus' temperate climate makes this island a comfortable place to live. Teachers can spend their time exploring local villages, lounging at the beautiful beaches, or sampling a mix of Turkish and Greek cuisine.
Despite Cyprus' low population, there are a number of private schools looking for ESL teachers. Elementary, middle and secondary school jobs are open to licensed teachers with two or more years of experience. Qualified licensed teachers can expect to earn a competitive salary of $2,000 USD or more depending on experience, which is more than enough to live comfortably. These jobs also usually contain a moving allowance, return airfare, and accommodation.
Now that Cyprus is part of the European Union, EU citizens who are not licensed teachers can more easily find positions in Cyprus. To become a competitive applicant, many schools are looking for a four-year degree in English and a TEFL certification.
Those who are not EU citizens can find programs through the British council to teach in Cyprus, however, competition is steep and most positions will want you to interview in person. Cyprus also has volunteer teaching opportunities, allowing teachers to live in Cyprus and teach English for free. These positions are always looking for teachers and usually do not require a TEFL certificate.
5. Russia
Far from its Soviet past, Russia today is a cosmopolitan, vibrant country. The largest nation on earth, Russia has finally opened its doors to the world, becoming a mecca of modern day art and culture. Despite media coverage, Russia has become an amazing place to teach abroad.
In Russia, the demand for native English speaking ESL teachers greatly exceeds the supply. For many young Russians, command of the English language is extremely important for those looking for a good job or a life abroad. Private language schools are scattered throughout Russia's cities, employing a mix of local and foreign teachers.
Demand is so strong that many schools will hire native speakers without any teaching qualifications. For most schools a university degree is more than enough, while other schools may hire you without a degree.
The most popular option for foreign teachers is to work for a large language academy, where instructors work around 30-hours a week and make roughly $1,000-1,200 USD including free accommodation and airfare. Those working at private schools should expect $1,500-$2,000 USD a month, including airfare and accommodation.
In Russia, housing is extremely expensive so be sure that your program offers a housing stipend. If for some reason you find a program that does not cover housing, expect to pay $600 USD a month in the smaller cities, and $700-$1,000 USD in Moscow.
6. The Philippines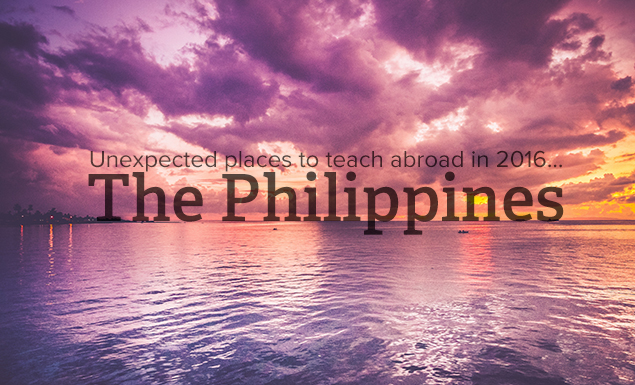 The warm weather, relaxed atmosphere, and friendly demeanor of the Filipino people make the Philippines not only an amazing tourist destination but also a great place to live and teach abroad. Currently, many migrants from neighboring Asian countries are heading to the Philippines for affordable quality English education.
While there are a large number of jobs, there is also a large number of qualified Filipinos who are fluent in English. This makes finding a job in the Philippines slightly harder, but not impossible. Many Filipino call centers are looking for native speakers with a North American accent to teach workers pronunciation and proper American-style English.
Most native speakers will find themselves working in a private academy in either Manilla or Cebu City. Many Filipinos are looking for a native speaker to help them prepare for the TOEFL test, which they need to get into foreign universities.
Native speaking ESL teachers might also find a job in a university, however, to get this job you'll need some teaching experience and a bachelor's degree (preferably a master's degree) at minimum.
Get off the Beaten Path!
For those of you looking for a completely unique teach abroad experience, these destinations are the perfect places to consider for 2016. Whether you want an immersive experience amongst the temples of Myanmar or to make a difference volunteer teaching in Colombia, one of these destinations is bound to fit your needs.