Teaching English in Japan: Real stories from Tefl teachers
Architect Mike Glichrist left UK to teach English in Japan. He shares his experience of mastering the chopstick and the bizzare practice of not waking students who fall asleep in class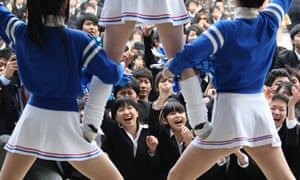 Our next story is from Mike Gilchrist in Japan. Mike is an architect, but like many in his industry, he fell foul of the recession. Unable to find any related work in the UK, he took the opportunity to travel and teach English in Japan. He went with the intention of staying for a year but has found himself staying for another. Mike works in a Japanese state school as a teaching assistant.
I caught up with him to ask him a few questions about life in Japan and his reasons for staying there. As you'll see, teaching is not all plain sailing and living in a foreign country can take some getting used to.
What is the teaching like?
Working as an assistant language teacher (ALT) is a lot of fun and it's great when the students understand and take part in the lesson. As the only foreigner in the school you're instantly liked by the students because you're so alien to them. You're not in any position to discipline students so you'll never be hated which is nice. As an ALT you generally plan all the lessons and games, and team teach the lesson with a Japanese teacher of English (JTE).
Last year I taught at a junior high school, teaching all 700 students between the ages 12 and 15. The first years are really happy and always have fun. The third years know that they must take part in the lesson to get good marks to try and get into a good high school so they are generally great as well. The second years, however, are tough. They're in limbo land with not having to get great marks, and not having to impress anyone so a lot of the time they are lethargic and really hard to motivate. My friends all say the same thing – and it's not just in English it's in all lessons. I do take the piss though which can get a laugh. Some students are actually sleeping in class and the teachers are, for some reason, fine with that. It's bizarre. If there is a student sleeping, leave them to it!
Throughout the year I don't remember seeing any punishment exercises, students being expelled, given detention or sent to the principle. Nothing. Some students – and it is only a handful – do get away with a lot. This is the only thing I have a problem with in Japanese schools.
How about the social life?
It's what you make of it and depend where you are sent to teach. I was sent to Nagoya which has a decent night life, bars and clubs. But some people can be sent to the middle of nowhere where a social life could be harder to find. Most Japanese people don't speak English so it can be tricky to get a group of Japanese friends to hang out with. However there are lots of foreign bars with strange foreigners in them and most Japanese people in these place do speak English. So you could meet Japanese people there and then go to an izakaya with them. Alcohol in Japan is horrendously expensive, very annoying. 500 to 600 yen for a pint (about £4) seems pretty disgraceful to me, but the good news is that there are cheap 280-300 yen bars around the cities, so do seek them out. I still do pay 500 to 600 yen for a pint, what can you do? At staff parties you'll notice that it doesn't take much for Japanese people to get drunk which is hilarious so perhaps that's why it's expensive to drink.
What have you seen and experienced?
In the last year I have travelled a decent amount around Japan seeing the cities of Tokyo, Osaka, Nagoya, Kyoto, Hiroshima and Kobe. Again, like alcohol, travelling is extremely expensive. Japan has such a variety of things to see from the bright neon lights of bustling Tokyo, to the relaxed traditional sights of Kyoto. If you have the money to spend there are lot of things to see and do. I would recommend climbing Mount Fuji too – pretty perilous, but a good experience and I am by no means a hiker in trim shape. Japan is also very seasonal with each season clearly defined. For example in mid April you can see the world famous cherry blossoms which are beautiful.
What have you learned?
I certainly haven't learned how to speak Japanese very well, but that's my own fault for not really studying. I do a little in the staff room when I don't have a class, but it's not enough. I have learned that I can work very well with 12 to 15 year olds, which is fairly useless if you're not a teacher. Iit's great being looked up to and being a source of inspiration. I know that my presentation skills have improved, as have my verbal communication skills. If you can present to 40 students and have them take part, you can present to anyone regardless of age. Also, I am now a master of the chopstick.
Why are you staying for another year?
Well there are a few factors. I still don't think my time in Japan is finished and there are several places I still want to visit. I was guaranteed a job teaching in two different junior high schools with excellent holidays and decent pay. I do really like teaching too. It's rewarding, fun, and probably the best job I've had. I'm pretty sure I will only do two years, as I don't want to become the bitter foreigner who has been away from home too long. Plus there are no architecture jobs back home as yet, with the economy still being in turmoil.
Source: https://www.theguardian.com/careers/careers-blog/real-stories-from-tefl-teachers-part-3